We unveil new dog training program in Bangkok
Trust, respect and understanding are demands that we should have on the partnership with our dog. Such a partnership can only be built through mutual trust and communication. Motivation and praise are just as important in this way as a termination signal and setting limits.
Personal Dog Trainer
Goals of my work:
We help you and your pup learn how to get along better in a fun, secure environment! We offer courses for dogs and their owners who want to be able to live together harmoniously. We will teach you how to understand what your pup wants and needs, as well as how they think and react differently than humans do. You will also learn about the latest training methods so that you can have an obedient.
Teaching a dog is difficult and time-consuming. You have to find a trainer, train at your home, take time off work and be committed for weeks or months on end. Training sessions are expensive, and you can't always find the right one that suits your schedule. We offer personal dog training in Bangkok which means we come to you! We build relationships with you as well as your dog, so they learn faster – usually within a few Sessions! To ensure a positive world view for the dog, it's essential to provide clear guidelines for desired social behavior. This concept should be based on mutual trust, respect, and understanding. Conventional puppy and dog courses often only aim at functionalizing the dog for humans, causing the level of feeling and the level of reality of the dog to fade into the background.
Partnership between human and dog
The perception of the dog as a dog
The acceptance of its otherness
The development of his potential
Respect of his skills
The knowledge of his limits
A common language for successful communication
Understanding Dog Behavior for Success in Obedience Training
Introducing a new way to have a happy and healthy relationship with your companion! We offer classes for dogs and their owners who want to be able to live together harmoniously. We'll help you to learn how to get along better in a fun, safe environment!
If you're frustrated, your dog is too. You know that training your pup can be tough and frustrating – it's like they don't understand what you want them to do!
When training your pup, there are so many challenges. They get distracted by other dogs or people; they act out right before an important event; or they just won't listen when you need them the most.
We make it easy for anyone to train their pup with our approach. We'll teach you how to communicate in a language that will finally click with your pooch!
Groundwork
Hands-on Training
Understanding your dog
Call and Stop & Sit and Wait
Mastering the Walk, Leash Work
Search & Retrieve
Personal Dog Training Bangkok – Best Canine Training Services
If the relationship between dog and owner is not good, humans very often lose control over their companion. They makes the experience that he can escape and is on his own. However, they should make the experience that his human controls situations and this for the most part. The more often a dog makes the experience that the human remains outside, does not communicate or communicates badly or remains unclear in his influence, the more they become independent. From this point on it becomes more and more difficult, sometimes almost impossible, for humans to influence the pup.
Our dogs are true specialists and show appropriate behavior. These innate breed-specific behavioral patterns are individual and differently pronounced. This includes, for example, hunting or guarding.
Communication with your Dog – Essential for Effective Dog Training
The more often a dog is allowed to live out its instincts, the more difficult it becomes for them to control themselves and for us to control him. For this reason it is essential to clarify with the pup when which behavior is desired and when not. This requires communication!
The characteristics and abilities of the dog to survive in our world mean that he is ready to get in contact and communicate with us. If we accept him as our social partner, we ourselves will make other demands on the quality of our relationship with this partner. The greatest challenge is to convey how one can experience the reality level of dogs and shape it on a canine communication level. The central point is always to conscientiously check whether one is really on a common level of communication with the dog and not only training them to stereotypical behavior. The handling of dogs should focus on their instinctive behavior and the resulting world view of the dogs. This is the core of effective dog training.
Our dog training course in Bangkok, Thailand focuses on navigating your pet's behavior, an essential part of effective dog training. A basic understanding of dog behavior is indispensable to assess what's best for your pet. Dogs have complex behavior patterns varying not only by breed but also by individual characters. That's why each dog's training is tailored specifically to their behavior.
Our pet services go beyond dog training and include kennel services in Bangkok, providing a safe and nurturing environment for your dogs. Our seasoned trainers study your dogs', tailoring techniques that tap into their inherent behaviors. Our Thailand-based facilities ensure that your pet receives the most professional care and attention, making it a leading dog training kennel.
Through our healthy and encouraging practices, we aim to transform your dog's behavior, ensuring you a well-trained pet. Our expert guidance is the key to successful dog training in Bangkok.
Obedience Training in Bangkok
Understanding the science behind successful dog training is essential for optimizing canine behavior. The science of dog training is rooted in knowledge and understanding of canines' inherent behavioral tendencies. In Thailand, the dog training scene is buzzing with experts keen to advance their knowledge on canine behavior and using this to improve their dog training methods. The commitment and care put into every dog's training regimen by the dogs team in Bangkok is unmatched.
Dog training is more than commands and treats. It's about using science-based knowledge as a crucial tool to guide a dog's behavior. Advanced dog care methods are incorporated in this process to ensure your canine companion is healthier, happier, and easy to manage. With the right dog training and care, your dog can integrate seamlessly into the Bangkok lifestyle. Thailand's dog training industry continues to leap leaps and bounds, cementing its reputation for quality dog training services.
We are dedicated to delivering the best obedience training. We offer a wide range of classes and courses, all taught by our certified trainers. You'll get hands-on help from an expert who can answer any questions you have about your pup's behavior.
Introducing Zoeta Dogsoul, a new way to have a happy and healthy relationship with your four legged partner! Our goal is to provide high quality obedience training in order to promote happier relationships between owners and dogs.
Dog Training with Heart
Training that works and builds a strong relationship with your pup
Experts in using positive reinforcement to train dogs
Studied with the world's leading animal behaviorists, trainers, and veterinarians
Our methods are tailored to you and your dog's needs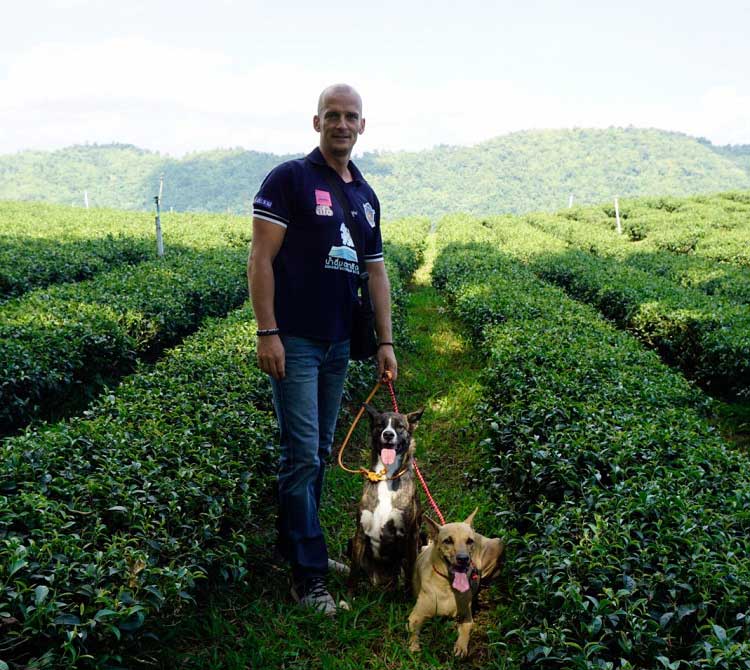 FAQs
Are these training techniques based on science?

Yes, our training techniques draw expertise from the science behind successful dog training, professionals in Bangkok excel in navigating through the intricate threadwork of canine behavior.
What makes your training techniques effective?

Understanding behavior-based training techniques for dogs might seem complex, isn't it? In this page, we strive to decode the science for all dog owners, using practical training methods. We focus on a dog's behavior to ensure effective training. We know that every dog is unique in its own way, so we adapt the training to suit each canine's specific needs.
Do you offer any unique dog training services?

Yes, we are proud to offer renowned Nichada's behavior modification classes. Their effectiveness is a testament to our understanding of the power of a dog's behavior, which is the root of any learning experience.
What is the science behind successful dog training?

The science of dog training is rooted in knowledge and understanding of canines' inherent behavioral tendencies. The dog training scene in Thailand is buzzing with experts keen to advance their knowledge on canine behavior and using this to improve their dog training methods.
Reach out to us to get started